K's Stuffed bell peppers. Stuffed Bell Peppers are a great way to enjoy summer's favorite veggie. These bell peppers are stuffed a delicious cheesy ground beef and rice mixture that your family is sure to love! Here are our favorite stuffed bell pepper recipes for an easy, healthy meal.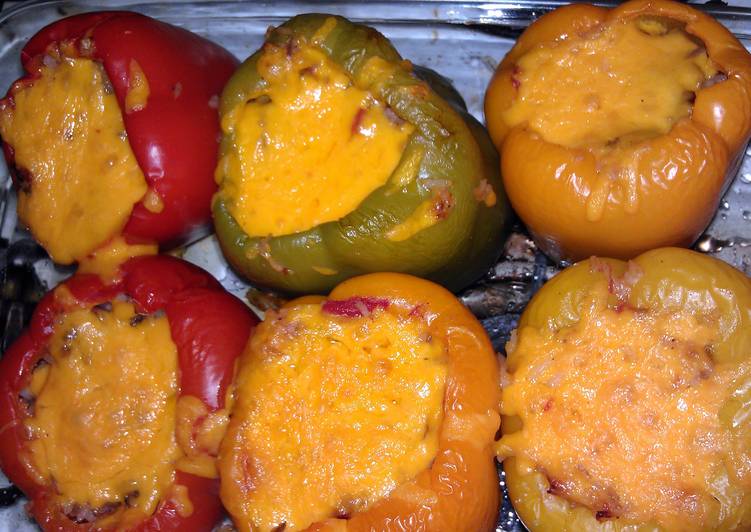 These Stuffed Bell Peppers are such a classic. They're made with a mix of ground beef, rice, onions, tomatoes, and spices. No need to pre-cook the filling Stuffed bell peppers is a classic American dish that one can't easily find in restaurants (unless it is a cafeteria). You can cook K's Stuffed bell peppers using 12 ingredients and 6 steps. Here is how you achieve that.
Ingredients of K's Stuffed bell peppers
You need 8 of different color bell peppers..
It's 1 lb of ground beef.
It's 1 packages of spicy sausage.
You need 1 large of onion.
You need 1/2 of red onion.
Prepare 1 3/4 cup of munster cheese.
You need 1 cup of extra sharp chedder.
Prepare 1/2 tsp of chili pepper.
It's 1 of salt & pepper.
Prepare 3/4 cup of mushrooms.
You need 2/3 cup of cooked rice.
It's 2 of eggs.
Sweet bell peppers are stuffed with creamy macaroni and cheese. This easy dinner is kid-friendly, but adults love it, too! All is quiet on the moving front. The trucks have been unloaded, furniture placed in the appropriate rooms, and I can't find a SINGLE.
K's Stuffed bell peppers step by step
clean & peppers. cook in bowling water for 15mins. drain ,preheat oven to 350.
cook ground beef & sausage . cut sausage into small peices.
cut all vegies & beat eggs in a small bowl set aside..
mix all ingerdients in pan together including eggs & seasoning. cook til done ,stuff peppers with filling & add munstor cheese & Sharp cheese to fill.tops of peppers..
bake for 25- 35 mins til cheese is golden brown & bubbling..
enjoy. ( I ate mine w/ a sweet n sour dip)..
Low carb stuffed peppers recipe with beef, pork, walnuts, and cheese. These peppers are baked in tomato sauce and make the ultimate keto meal. The bell pepper is an excellent vessel for stuffing meat, rice, and, of course, cheese. It's strong enough to hold its shape in the oven, and the flavor is subtle enough to go well with just about anything. This is our favorite recipe but the customization options are endless.