Peanut Butter Rice Krispies Treats. You won't mind if these peanut-buttery squares stick to the roof of your mouth. Make a magnificent mango morning treat when you combine Kellogg's® Rice Krispies® with light coconut milk, chia seeds, vanilla, shredded unsweetened coconut and mango. Healthy Rice Krispie Treats made without marshmallows and with peanut butter, coconut oil, maple syrup and brown rice krispies.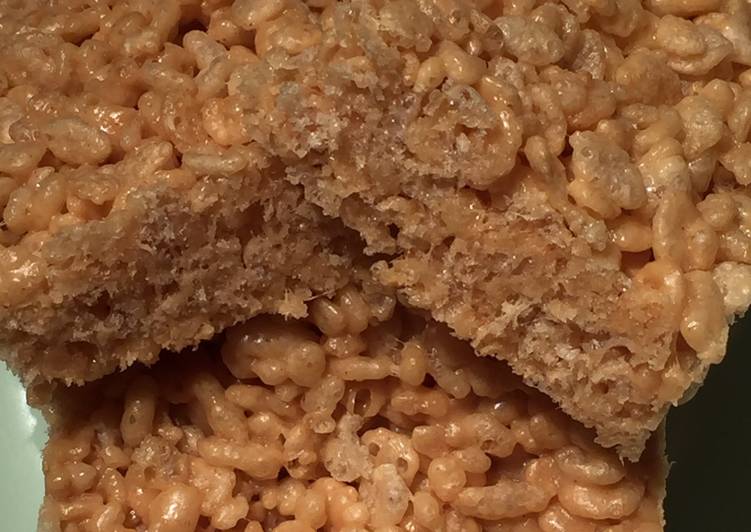 As a child, I absolutely loved Rice Krispie treats. Sometimes if I was lucky my Mom would make them for us after school and they'd still be warm, not quite These peanut butter Rice Krispies are chewy, peanut buttery, and ridiculously delicious with a layer of chocolate on top. For ingredients, you'll need I love that these Healthy Peanut Butter Rice Crispy Treats have no marshmallows or corn syrup but are still out-of-this-world delicious! You can cook Peanut Butter Rice Krispies Treats using 4 ingredients and 4 steps. Here is how you achieve that.
Ingredients of Peanut Butter Rice Krispies Treats
It's 3 tbsp of of butter.
You need 4 cup of of miniature marshmallows.
It's 1 of Half cup of peanut butter.
It's 6 cup of of crispy rice cereal.
I think they're even easier to make because melting peanut butter and honey is much easier than melting mallows! ?. If you use a super creamy, natural peanut. These Peanut Butter Rice Krispie Treats will become soft if you leave them at room temperature for too long, so I recommend storing them in the fridge for best shelf life. Keep them in an airtight container to prevent the cereal from going stale. (It will lose its crunch if you don't keep it tightly covered.) Actually Rice Krispies Treats® was one of the first things that my Mom taught me how to bake.
Peanut Butter Rice Krispies Treats instructions
Melt butter in large sauce pan over low heat. Add marshmallows and stir until they melt. Remove from heat..
Stir peanut butter into marshmallow mixture until smooth..
Add cereal and quickly stir until mixture coats cereal..
Press mixture into buttered into 9 x 13 inch pan and cool. Cut into squares..
If you love the Classic Rice Krispies Treats®, you will definitely want to try this peanut butter version. Place sugar, syrup and peanut butter in heavy sauce pan and bring to a boil. Place the rice crispies in a large bowl. Stir the mixture on to the top of the cereal, til all is covered. These crisp and chewy Rice Krispies treats are deliciously peanut-y and made with gluten-free brown rice Krispies.