Creamy Walnut Pesto Linguine with Chicken and Zucchini.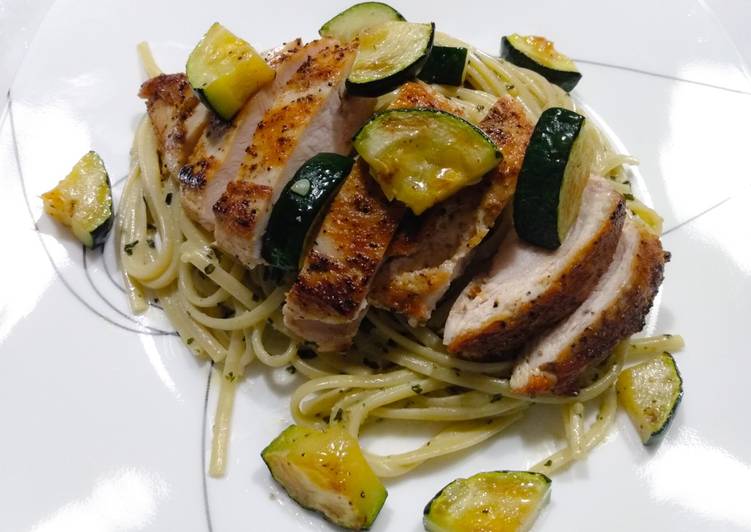 You can have Creamy Walnut Pesto Linguine with Chicken and Zucchini using 9 ingredients and 6 steps. Here is how you cook it.
Ingredients of Creamy Walnut Pesto Linguine with Chicken and Zucchini
It's 1/4 cup of walnut halves.
You need 1 of packed cup basil leaves.
You need 3 cloves of garlic.
Prepare 1/2 cup of freshly grated parmesan cheese.
It's 1/3 cup of extra virgin olive oil.
You need 4 of chicken breast halves.
Prepare 2 of zucchini, cut into 1/2 in slices and quartered.
You need 1 lb of dry linguine.
It's 1/2 cup of whipping cream.
Creamy Walnut Pesto Linguine with Chicken and Zucchini step by step
Put a small pan on medium heat and add the walnuts. Let the nuts toast for 2 minutes, shaking the pan often to move them around. Add the nuts to a food processor along with the basil, garlic, parmesan and olive oil. Add a pinch of salt and pulse a dozen or so times until the pesto reaches a uniform and just slightly chunky consistency..
Cover the chicken breasts between sheets of cling film or parchment paper. Use a kitchen mallet, rolling pin or small heavy pot to pound the breasts until they're 1/2 to 3/4 inch thickness..
Add a splash of veg oil to a large pan on medium-high heat. Season the chicken breasts with salt and pepper and sear them in the pan, about 4 to 5 minutes per side depending on thickness. Remove the chicken to a plate to rest and wipe the pan clean. You'll need it again shortly. Put a large pot of salted water on high heat for the pasta..
Put the pan back on high heat and add a fresh splash of veg oil. Add the zucchini and fry until they start to caramelize and soften just a little, about 3 or 4 minutes. Season with salt and freshly cracked pepper. While you're cooking the zucchini, cook the linguine according to the package directions..
Drag the cooked pasta from the pot to a large mixing bowl. Add 3 or 4 tablespoons of pesto as well as the cream, then toss to coat. If the pasta's too thick, add a ladle or so of the pasta cooking water. Plate the linguine, and top with the chicken breast and zucchini..
Transfer any leftover pesto to a small container and top with a little extra virgin olive oil. Keep it in the fridge to be used again. Hint: it's amazing drizzled inside an omelette with a little cream cheese..