Easy Rice Krispies Treats. Add marshmallows and stir until completely melted. Adults and kids alike love delicious, chewy Rice Krispie treats. Create these tasty homemade snacks in only a few minutes with this easy recipe.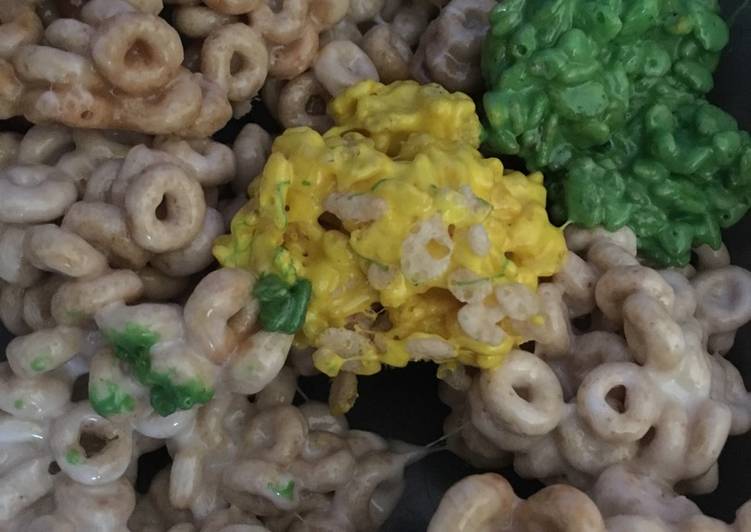 This no-bake dessert is perfect to have in your back pocket! Rice krispies are such a nostalgic treat that are simple and super kid-friendly. My littles love to help me in the kitchen when I'm. You can cook Easy Rice Krispies Treats using 4 ingredients and 5 steps. Here is how you achieve that.
Ingredients of Easy Rice Krispies Treats
It's 2 cups of marshmallows or Fluff.
It's 2 cups of or more Rice Krispies cereal.
Prepare 1 tablespoon of butter.
It's 1 teaspoon of real vanilla extract.
No more boring Rice Krispie treats! This no-bake recipe is easy to These Funfetti Rice Krispie treats look just like Funfetti cake! Rice Crispy Treats OR Rice Krispie Treats? And while we're on the topic, how do you spell this beloved Basically Rice Krispies Cereal or any variation of the cereal, generic, fruity or otherwise.
Easy Rice Krispies Treats step by step
Melt butter in pot. Add vanilla, stirring often. If using food coloring, add now..
Add half the marshmallows or all of the fluff. Once melted, you can add the remaining marshmallows..
Add half the cereal and mix slowly. Once fully combined add the remaining cereal. There should be slightly more cereal than marshmallow, so add more if necessary..
My favorite way to portion is to use an ice cream scoop. You can also empty all the mixture into a glass 9×12 pan and cut when cooled..
If adding frosting or dipping in chocolate, wait until COMPLETELY COOLED and somewhat hardened..
The perfect rice krispies treat recipe is easy, gooey, and sweet! Crispy rice treats are a totally retro dessert and once you take that first bite, you're instantly reminded why they're a staple. Just a pinch adds a depth of flavor otherwise absent from crispy rice treats. Rice Krispies Cereal: What's a crispy treat without rice krispies cereal? Rice Krispie Treats are trickier to get right than you might think.