Cheesy Butter Cookie ( a.k.a Lidah Kucing ). A quick and easy, melt in the mouth Butter Cheese Cookies recipe features the use of cheddar cheese & almond nips. A family holiday favorite.or for anytime during the year!!! Recipe below by clicking on "Show more".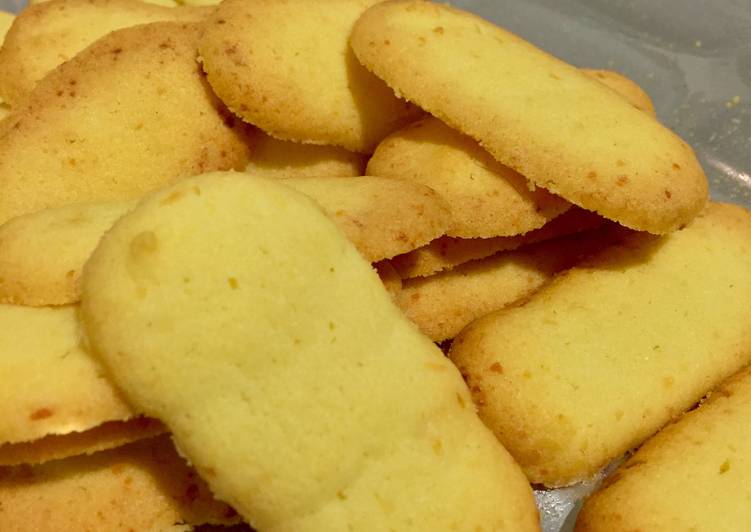 Just be sure to chill it thoroughly so it keeps its shape while baking. Not too sweet, but nice and buttery. These chewy butter cookies are so easy that you will never want to try another recipe. You can have Cheesy Butter Cookie ( a.k.a Lidah Kucing ) using 7 ingredients and 5 steps. Here is how you cook it.
Ingredients of Cheesy Butter Cookie ( a.k.a Lidah Kucing )
It's 160 grams of All purpose flour.
You need 70 grams of Powder sugar.
Prepare 180 grams of Butter.
It's 1 tsp of Baking powder.
You need 80 ml of Egg white.
Prepare 60 grams of Cheddar cheese ( finely grated ).
Prepare 1/2 tsp of Salt.
However, not everyone likes cookies the same way. There's generally a big split: those who like them crunchy and those who love them chewy. Kids will love these scrumptious low-carb keto cookies; all you need is peanut butter, vanilla extract, an egg, and some sugar substitute. The trick to these cookies is the baking time; do not overbake or they will dry out.
Cheesy Butter Cookie ( a.k.a Lidah Kucing ) instructions
Beat butter and sugar for 3 minutes, add egg white, beat it untill well corporated..
In another bowl, mix flour, baking powder and salt. Add into egg-butter mixture. Continue beating in low speed..
Using spatula, fold in grated cheese..
Put the mixture in piping bag, then start squeezing out on the cookie tray, 7 cm lengthwise. Keep the distance between the cookie to allow it raise..
Bake it in preheated oven, 160 C for 15 minutes.
Butter Cookies Recipe with stepwise photos. These crisp and tasty cookies are made with whole wheat flour and spiced with We are fond of cookies. My quest for a peanut butter cookie that's thick and soft, that bends rather than breaks when folded in two, has come to a glorious end. Putting the Chew in Chewy Peanut Butter Cookies. Butter: Room temperature butter, along with cream cheese, is the base of this cookie recipe.