Peanut butter coconut rice crispy treats. You won't mind if these peanut-buttery squares stick to the roof of your mouth. Vegan Peanut Butter Rice Crispy Treats made with rice cereal, peanut butter, brown rice syrup and cacao nibs is a healthy, no-bake snack recipe that's super easy to make – and they taste amazing too! I made these healthy peanut butter rice crispy treats to take along as a snack for my flight from.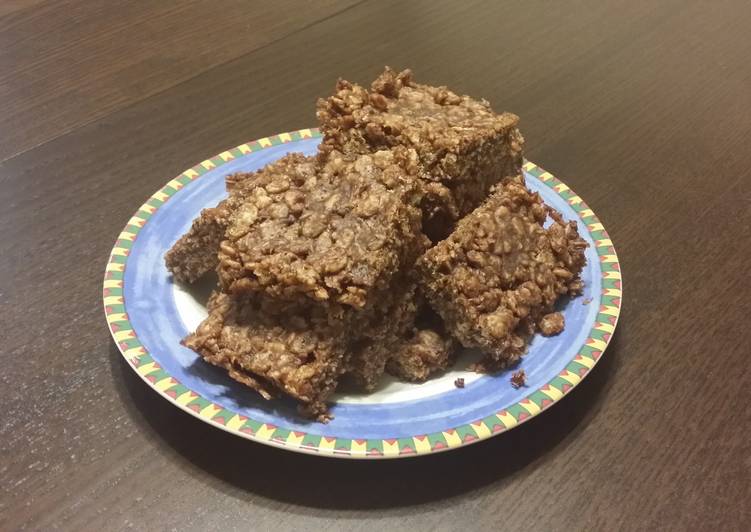 No baking, only a few minutes involved, and so good! I still love them and I wanted to try making them with Golden Barrel Coconut Oil in place of the butter- it was a great idea! Healthy Rice Krispie Treats made with peanut butter, coconut oil, maple syrup and brown rice krispies. You can have Peanut butter coconut rice crispy treats using 5 ingredients and 4 steps. Here is how you achieve that.
Ingredients of Peanut butter coconut rice crispy treats
You need 5 cup of Rice Krispys.
It's 3/4 cup of Agave syrup or equivalent.
You need 3/4 cup of Natural Peanut Butter.
Prepare 1/2 cup of Unsweetened Shredded Coconut.
You need 1/4 cup of Cocoa powder.
These vegan and gluten free treats are topped with dark chocolate and sea salt for an indulgent treat that tastes just like a crunchy peanut butter cup. These sweet, salty, classic, crispy peanut butter rice crispy treats are so fun & EASY to make! These peanut butter Rice Krispies are chewy, peanut buttery, and ridiculously delicious with a layer of chocolate on top. If your rice krispie treats get too hard – that often means that the marshmallows started to burn.
Peanut butter coconut rice crispy treats instructions
Melt peanut butter, agave and cocoa in sauce pan over medium heat..
Combine Rice Krispys, Coconut and melted mixture in bowl and mix until evenly coated..
Press mixture into lightly greased 9×13 pan and cool in fridge..
Cut into squares and enjoy..
Like a crispy, crunchy, chewy peanut butter cup! Enjoy the absolute BEST Rice Krispie Treats recipe you will ever taste. They are perfectly balanced using just the right amount of marshmallows, rice crispy cereal, and butter. I love that these Healthy Peanut Butter Rice Crispy Treats have no marshmallows or corn syrup but are still out-of-this-world delicious! I think they're even easier to make because melting peanut butter and honey is much easier than melting mallows! ?.